Our Carl Club: A Tribute to Carl Wilson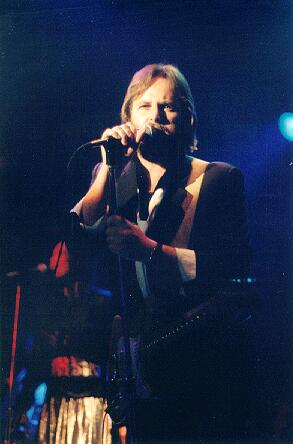 This page is intended to pay tribute to Carl Wilson. I'd like to stay focused on Carl's solo work, as there are many Beach Boys sites that are far more complete than I could hope to produce. However, if something strikes my fancy relating to Carl's work with the Beach Boys or other groups, it might appear here also.

I rank Carl as one of my favourite musicians. I'm glad that I was able to hear him sing so many times, glad that he worked solo and gave us two good albums, yet sad that I will hear him no more.

With his death, the stories that I am hearing of how he took time to talk to fans and how he treated those around him with kindness and respect make me even prouder to say I am a fan of his work.

Listening to Carl's voice always brought me happiness, and I was always amazed that he would always thank the crowd after singing "God Only Knows". Thank you very much, Carl Wilson.







News!
Through the wonder of the Internet, I have become acquainted with a lovely fan of Carl's music named Karen A. Carlson. She has thought up an idea for a fundraiser to benefit the Carl Wilson Foundation, a golf tournament to be held Monday, August 8, 2005. All registration will be payable to the CWF, so it should be tax-deductible to the extent allowed by law. Full information is found at the CWF Scramble 2005 site! This is cool--everyone who plays will receive a golf shirt with the foundation's logo embroidered on the front left.

If you want more information about the event (the linked page is pretty comprehensive, check it out first, though) or how to register or make a donation, you can reach Karen by phone at 269-720-6978 or via email at Karen A. Carlson.
Biographical Information
Carl Dean Wilson (Born 12/21/46 - Died 2/6/98)


Carl's first wife was Annie Hinsche, with whom he had two sons, Jonah and Justyn.
His second wife was Gina Martin.

Break Away, the Brian Wilson Fan Club, did a great service by reposting the press biography from 1983's Youngblood. They have since removed the link but I have reproduced it here--it is quite interesting reading.

I'm not out to exploit any other facets of Carl's biography, as by all accounts he was a private man and I want to respect that. If you have any information you feel is pertinent, though, please let me know of it.



Carl's Solo Albums
Before you ask, no, I don't know where you can get either of Carl's first two solo albums on Compact Disc. I got lucky and found my copy of Carl Wilson at a store that stocked imports about four years ago. I have still never seen a copy of Youngblood. Both were released in Japan only and are currently out-of-print and hard to find. (Believe me, I've tried.) If you search the Web or try GoldMine magazine you can probably find an enterprising soul who is bootlegging copies, but I can only hope Caribou will see fit to re-release the albums someday.

If you're smart, you'll buy Like a Brother now before it goes out-of-print. The masses never know a good thing!
Carl Wilson, 1981

Hold Me
Bright Lights
What You Gonna Do About Me?
The Right Lane
Hurry Love
Heaven
The Grammy
Seems So Long Ago



Youngblood, 1983

What More Can I Say
She's Mine
Givin' You Up
One More Night Alone
Rockin' All Over the World
What You Do To Me
Youngblood
Of The Times
Too Early To Tell
If I Could Talk To Love
Time



Like A Brother (Beckley-Lamm-Wilson), 2000

Today (Carl: lead vocal)
Feel the Spirit
I Wish for You (Carl: lead vocal)
Run Don't Walk (Carl: lead vocal)
Watching the Time (shared lead)
Life In Motion
Sheltering Sky (shared lead)
They're Only Words (Carl: lead vocal)
Without Her
Like a Brother (Carl: lead vocal)
Carl's Solo Touring
I have some information about Carl's Solo Tour Dates.



Memories of Carl
Read about others' memories of Carl the man & musician, email me with your own recollections.



'Unreleased Carl'
Please note: Just because I list any recordings does not mean that I am willing to provide a copy of them. I will never make money off of any of Carl's performances, and I am only interested in trading for good-quality items that show me something I didn't already know about Carl.

I have a copy of one 1981 performance of the Carl Wilson Band.

If you have any other recordings, or even know of any, please let me know.



Pictures of Carl
I have some pictures from the Los Angeles, CA performance at the Roxy, and a few from Beach Boys performances courtesy of Ben Valley. Warning: This page takes a LONG time to load completely.

I have a few more pictures courtesy of Neil ShoenHolz.



Carl Links
Carl Wilson Memorial Efforts
Margaret Dowdle Head of the Beach Boys Fan Club puts a great deal of effort into keeping current with the latest Carl Wilson memorial efforts. Visit Carl Dean Wilson, In Memoriam to keep up.
Other Carl Tributes
Carl Wilson Foundation
Dennis Wilson Site Tribute to Carl
Timothy White's Billboard tribute
Miscellaneous
Beach Boys Solo Album Reviews--including Carl Wilson and Youngblood

Like a Brother Fan Site--excellent, has song clips & links to interviews.

Please Email me with any Carl-related information you'd like to see here or any suggestions on this page.




My thanks to Ben Valley for the photo of Carl.
---
Carl Wilson WebRing Home Page Information
This page is also the Carl Wilson WebRing "Home".

Here's the CW Ring's blurb:
Created in 8/2000 by a RingMaster who promises to try and keep the ring active--unlike the first CW Ring which was abandoned. The Carl Wilson WebRing is devoted to the man who was the "glue" of the Beach Boys. Beach-Boys-related sites welcome, but we're most interested in Carl-specific sites.

To join, go to the Add Page.

Once you submit your join request, you will have to add HTML code to your page, similar to that below, before you will be added. The graphic is optional. Please copy the graphic to your own site rather than linking to mine--it will be faster.
---
This page is also a Beach Boys Ring site owned by JT.
Previous | Next | Random Site | List Sites
---
Powered by WebRing.
---
This page is also a Dennis Wilson Ring site owned by JT.
Previous | Next | Random Site | List Sites
---
This page is the Home site of the Carl Wilson WebRing, owned by JT.

Previous | Next | Random Site | List Sites
---
You are visitor #
since 8/18/2000 to Our Carl Club.... Please visit again!

---
This site last updated June 4, 2005. It is maintained by John Tilden.
---